Vendor Agreement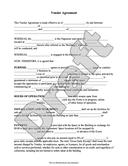 Whether you're planning a food fair, farmer's market or arts festival, or you're manning the booth, signing a Vendor Agreement can ensure the event is a profitable and positive experience for all.
Use the Vendor Agreement document if:
You are hosting an event and would like to allow vendors to sell products or services at the event.
You are a vendor selling products or providing services at an event.


Make document: Vendor Agreement
Available from: RocketLawyer.com
Have a legal question? Ask a Lawyer